5 things you MUST know before you buy German Shepherd Puppies
1. There are NO REGULATIONS in the UK, (UK Kennel Club) with regards to the standard of German Shepherd. 
We select, train, qualify and raise all our dogs.
Germany have the highest standards for the German Shepherd Dog. (German GSD Kennel Club SV – Verein für Deutsche Schäferhunde translated 'German Shepherd Association' in Germany)
Dogs require, to be eligible for breeding:
– Hips and Elbows X-ray (HD/ED hip/elbow dysplasia)
– Temperament test (BH)
– Endurance Test (AD)
– Show grading
– Koerung (Breed Survey/Approval)
– IGP/IPO Qualifications (tracking, obedience and minimum of 80 points in protection work)
– And now more recently ZTP Zuchttauglichkeitsprüfung (Breed suitability test)
In UK, there is NO STANDARD – not even a health test. Any dog with a 'pedigree' (piece of paper) can be bred and be registered with the UK Kennel Club. The assured breeder scheme is a quality standard of whelping, raising and facilities of the breed NOT the quality of the dogs.
You will find all our breeding to have most, if not all, qualifications to the standard in Germany.
2. 'WORLD CHAMPION BLOODLINES'
A World Champion grand father (or some say even great, great grandfather) is not a reflection of the quality of the breeding or puppies. Almost every German Shepherd will have a 'World Champion' if you go back in time far enough.  (There are Champions that are of good temperament and healthy, there are also Champions that are 'not' …)
Buyers should look at the breeder, the breeding and the SIRE and DAM of the litter. The only things we CAN research are: health tests, and qualifications.
Most often, breeders will BREED their female with a qualified male. Very few qualify their female too. In Germany, both parents must have qualifications before breeding.  You will find in all our breeding both parents qualified.
3. Saying you are the BEST VS Actually being the BEST
Achievements? Any? Or Zero.  
4. Show dogs vs Working Dogs
There are two main types of German Shepherds: Show and Working.
I have the utmost respect for both Show and Working as the best people I know are all dedicated and love the breed.
Because the UK does not have any standard or requirements for German Shepherds to approve a breeding, many breeders do minimal or nothing.
If they are Show dogs, they could be Shown.  If they are Working dogs, they should definitely be Worked.  Females included.  Show grading allows puppy buyers (and breeders) to know that their puppy's parents have no physical faults (teeth, eyes, feet, ears, etc.) or testing for (in)sufficient working ability.
*There are some good breeders out there, but unfortunately a lot of people are breeding 'German Shepherds' which are neither good for show, nor good for working.
5. Sloping backs vs Straight backs
I hear this all the time, "We want a dog with a straight back".  That doesn't mean your dog will be healthy.  Health comes from tests, and even with two healthy parents, some luck is involved too! Of course, having two healthy parents is better than having none!!! 
A dog with a bad back, can be cleverly photographed; just as much as a healthy dog can be badly photographed! Unless you are an expert in the breed, don't take someone else's word (or even photo!) Photoshop exists too!!!  So what can we trust???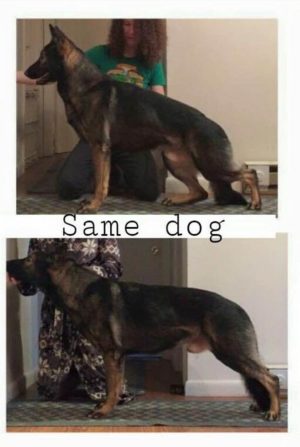 If you are looking for a lifetime companion; for me, the parent's health would be the first and primary factor for any breed. And yes, there are ways to check if it's real or not.
Happy Puppy Shopping!
😊
Castlehill Working German Shepherd Puppies